Grace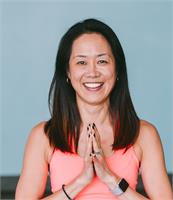 Grace teaches a lively, sweaty, and FUN class emphasizing living your life fully and not taking yourself too seriously. Her classes will challenge you and yet release stuff inside... you'll see that yoga goes beyond the poses - there's more - the stuff underneath - that's where the real yoga is.
Grace's yoga journey began in 2000 by attending a yoga class on a whim thinking it would be a boring hour of breathing and stretching. Instead she found herself challenged - body, mind and soul. Instantly addicted, she has been practicing ever since. In 2006, Grace started teaching and spreading the yoga joy! Grace spent her childhood in Houston and has been living in Sugar Land since 2004. She is a wife to a super-tolerant husband and a mother to two energetic boys. Her original career path was climbing the corporate ladder in the field of human resources for over 15 years, and after having two of the cutest boys you'll ever meet, Grace decided to take her passion to the next level and opened Awakened Yoga Studio in Sugar Land in early 2010. It's been a passionate whirlwind ever since!
Grace has completed trainings with a variety of teachers including Baron Baptiste and Ana Forest. Her primary style of teaching is power vinyasa flow but she's been known to teach anything from restorative to Ashtanga! She has also been leading teacher trainings since 2011.
"Believe in something big. Your life is worth a noble motive." - Walter Anderson
Grace instructs the following:
This is a vigorous vinyasa practice that is kicked up a notch in intensity and pace. Be prepared to sweat and be challenged. Appropriate for experienced/ambitious beginners and up.




This class uses intense pose sequences to develop skills in awakening each of the senses. It teaches you to bring aliveness, using breath, into every cell of your body, igniting your passion for life. You will sweat, gain strength, release tension, and breathe much easier. You can expect deep pranayama, intense standing poses, backbends, core strengthening work and deep stretching. Appropriate for all levels, including ambitious beginners. Class is heated to 85-90 degrees.




This is an all-level vinyasa practice where poses are explored beyond the basics and at a faster pace. This class is appropriate for ambitious beginners and long time practitioners.




A vinyasa based flow set to 90 degrees. Expect to warm up fast and sweat. A lot.

Strengthen your breath and body, find balance and connection of mind to body. An all encompassing work out physically, mentally, and sometimes spiritually. <3

Just in time for the holidaze.