Jamie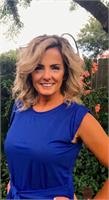 Jamie started working at the studio in August 2011 after being a stay-at-home mom for 15 years. She began her practice at Awakened Yoga in January 2011 and decided to join the team after Grace posed the question: "Do you want to work barefoot?" Upon hearing that question, Jamie jumped at the chance to discover her love of people, yoga and retail. She has lived in the Sugar Land/Missouri City area for over 25 years and is married with two kids in college. Jamie serves an instructor & front desk guru. She loves sharing her love of yoga and chatting with clients.
Jamie instructs the following:
A vinyasa practice taught at a slower pace, with more explanation on correct alignment and modifi- cations. Basic postures are explored including standing poses, standing balancing poses, core work and back- bends. This class is appropriate for absolute beginners or experienced students wanting to take it down a notch.




Inferno Hot Pilates is a training system which combines Pilates principles with High Intensity Interval Training (HIIT) and it is performed in a heated room with motivating jams! IHP is high intensity but LOW impact. If you want to burn through fat RAPIDLY, develop long lean muscle mass, create a strong core and have a blast IHP is for you. Bring a mat, towel and water.