Lindsey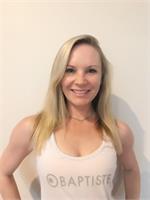 Lindsey Martin has been practicing yoga since 2008 when she stumbled into a vinyasa class at a gym due to curiosity. She fell in love with the poses and became obsessed with mastering them. She loved how every time she left a yoga class, she felt more open and ready for anything. Lindsey has completed her 200-hour certification through Baron Baptiste and is a Certified Baptiste Power Yoga Teacher! She has completed Baron Baptiste's Level 1, 2 and 3 teacher training programs. She grew up in and currently lives in Sugar Land, Texas. In addition to yoga, she enjoys traveling, shopping, playing with her children, and running. Lindsey's ultimate goal is to have her students meet their fullest potential mentally, physically and spiritually.
Lindsey instructs the following:
This is a vigorous vinyasa practice that is kicked up a notch in intensity and pace. Be prepared to sweat and be challenged. Appropriate for experienced/ambitious beginners and up.




Do you enjoy the thrill of being upside down? Do you wish for more time to do inversions in a flow class? THEN YOU ARE IN LUCK!

Lindsey designed this clinic to break down the building blocks of handstands and offer you the tools to stand tall. On your hands.

Requirements: MUST BE ABLE TO HOLD A HANDSTAND AGAINST THE WALL FOR AT LEAST A MINUTE.

This class is open to the ambitious, somewhat beginner, and up.




This is an all-level vinyasa practice where poses are explored beyond the basics and at a faster pace. This class is appropriate for ambitious beginners and long time practitioners.