Jeffrey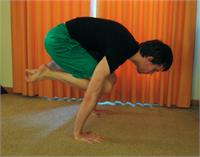 Jeffrey believes that yoga has the power to reduce stress and promote physical healing. He teaches a class that focuses on breath and well-being, while still providing opportunities for improvements in strength and flexibility. He offers a simple approach to make progress accessible to the intermediate student. Jeffrey hopes to make it as easy as possible for people to discover the benefits of yoga. Jeffrey took his first yoga class in 2006, not realizing that vinyasa would soon become an integral part of his life. He received his 200-hour RYT certification from Awakened Yoga in 2014. He has experience working as a personal trainer, is a proficient kick-boxer, and is learning gymnastics. Jeffrey received a BS in Engineering Science from Trinity University in 2007. His passions for athleticism and longevity have made him an ongoing student of nutrition.
Jeffrey instructs the following:
This is an all-level vinyasa practice where poses are explored beyond the basics and at a faster pace. This class is appropriate for ambitious beginners and long time practitioners.




Allow your stress to melt away and your thoughts to slow down in this class structured to promote healthy restoration. You will breath deeply to find peace and ease in a practice that lets the body soften and recuperate. Expect longer holds in passive poses designed to increase flexibility and to release muscular tension.




VinYin begins with a slow-paced vinyasa warm-up to prepare the body for the stretches to come. The yin yoga that follows is designed to release muscular tension and develop flexibility through the joints. The practice focuses on using the breath to calm the body and mind. This class is suitable for all levels, but caution is advised for pregnant or post-natal mothers.




Yoga for Muscle Recovery is an unheated class that is open to all levels. Emphasis is placed on aligning breath with movement to generate warmth, improve circulation, and deliver nutrients to muscles and connective tissues. The vinyasa-style sequencing is designed to reinforce healthy patterns of motion and to address muscle imbalances with unilateral exercises. Forms of self-massage such as foam-rolling are employed to increase blood flow and facilitate soft-tissue repair. The class concludes with floor-based stretching to improve flexibility, increase range of motion, and create a sense of relaxation.




Yin is a floor-based class that focuses on using the breath-body connection to cultivate a tranquil and meditative state. By settling into passive poses with long holds (usually between two and five minutes) the practice serves to release muscular tension and develop flexibility through the joints. Yin yoga is not ideal for pregnant or post-natal mothers.

.