Chinelo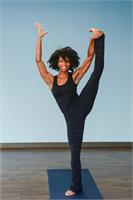 Chinelo began her yoga journey in 2011 to balance her rigorous training in dance. When she felt mind and body connection in yoga, there was no going back. Chinelo received her RYT200 Yoga Alliance certification through Awakened Yoga Studio's Spring 2015 Teacher Training. Her favorite yoga style is vinyasa with yin and Forrest tied as runners-up. Ever since she cultivated a dedicated yoga practice, she's become more mindful, centered, and adventurous. She loves guiding students to become more rooted in themselves while having a laugh. When she's not teaching, you can find her cracking jokes at the front desk, learning new Afro-pop dance moves, or swimming in Spirit's pool.
Chinelo instructs the following:
A vinyasa practice taught at a slower pace, with more explanation on correct alignment and modifi- cations. Basic postures are explored including standing poses, standing balancing poses, core work and back- bends. This class is appropriate for absolute beginners or experienced students wanting to take it down a notch.




This is a vigorous vinyasa practice that is kicked up a notch in intensity and pace. Be prepared to sweat and be challenged. Appropriate for experienced/ambitious beginners and up.