Heather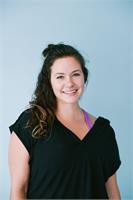 Growing up in small town Needville, Tx Heather was introduced to yoga by a Denise Austin Dvd. After purchasing a few more DVDs, She was astonished to hear instruction for "free form" yogis choice. Heather, being a self proclaimed doer, found that the space to just be, feel and create shapes on her own was foreign and intimidating. She started her practice at Awakened Yoga in 2014. After about a month of feeling awkward, she settled into this beautiful love story with herself. Fine tuned focus, tension and pain relief, easier breathing, blossoming self love, and most of all space to create her best self all came into the picture. She intends to finish yoga teacher training in 2017 at AY studio and give back the goodness she has received through this divine practice. She encourages staying in tune with your inner drum, letting yoga meet you on your mat and together form a harmonious song.
Heather instructs the following:
This is an all-level vinyasa practice where poses are explored beyond the basics and at a faster pace. This class is appropriate for ambitious beginners and long time practitioners.




This is a vigorous vinyasa practice that is kicked up a notch in intensity and pace. Be prepared to sweat and be challenged. Appropriate for experienced/ambitious beginners and up.