Amy K.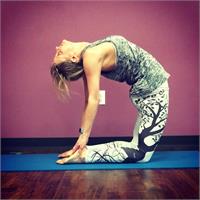 Amy spent the first 18 years of her life dreaming of becoming a prima ballerina. It was when she realized that wasn't practical, that she found yoga. She began practicing Hatha Yoga in college, and in 2000, fell in love with Bikram Yoga. She graduated her 9 week intensive training in Los Angeles in 2002, and opened her own studio in Sugar Land in 2006, which she maintained until 2013, when she decided that her time was better served taking care of her six little munchkins at home. These days, Amy is thrilled to bring Hot Yoga to AY, and when she's not chasing after her husband and kids, or sticking her nose in a book, you can find her working on her newest yoga love, vinyasa flow!
Amy K. instructs the following:
This is a heated yoga class that is composed of breathing exercises and a series of postures that will challenge and increase your flexibility and strength. Systematic poses are held for several breaths each allowing you to deepen your stretches and build strength. This class includes a standing series followed by a floor series to work the entire body. Suitable for all levels.