Trish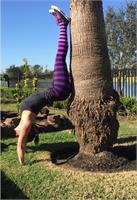 Trish is a registered teacher with Yoga Alliance after having completed the 200 hour training in Spring of 2015 here at Awakened Yoga. After completing multiple marathons, long distance bike rides and brutal sessions in the gym, she decided to give yoga a go for some "gentle stretching". It was an instant love affair, resulting in the most challenging physical and mental activity she had ever done. After developing a deeper yoga practice, she learned that growth does not come from forcing her mind/body into things it was not ready for, but with patience and breath. Her goal as a teacher is make yoga fun and accessible to everyone without worry or judgement. When she is not on the mat, her other happy places are hanging at home with her hubs and 3 kiddos, anything around the water (but not IN the water!), blue sky, music, and travelling – okay, so the latter is (gratefully) limited for now because of said 3 kids, but still a passion!! Trish gets your flow on and heart rate up in Fitness yoga, the kids moving and smiling in Kids Yoga and is also trained in Power yoga.
Trish instructs the following:
This is an all-level vinyasa practice where poses are explored beyond the basics and at a faster pace. This class is appropriate for ambitious beginners and long time practitioners.




A vinyasa practice taught at a slower pace, with more explanation on correct alignment and modifi- cations. Basic postures are explored including standing poses, standing balancing poses, core work and back- bends. This class is appropriate for absolute beginners or experienced students wanting to take it down a notch.