Traci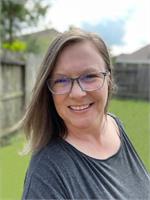 Traci has been a student of yoga for the past 20 years. "Yoga has helped me survive and thrive during some of the hardest moments of my life. Bhakti Yoga, the yoga of devotion, is my spiritual path. I love to lose myself in weaving movement and prayer together. I have been teaching yoga and meditation for the past year and a half. I teach Yin, Hatha, Vinyasa and Nidra Meditation. I instruct from the yoga lite to the intensives. Tailored to your needs."
Traci received her RYT300 from Awakened Yoga Studio in Sugar Land Texas. She has also completed Yin Yoga training at Yoga One in Houston Texas. She is currently in training with Janet Stone and continuing education with Katalin Axmann from Kat's Yoga Lab in Yoga Therapy.
Traci instructs the following:
This is a non-flow yoga class. Using the basic postures, this class moves at a slower pace with more emphasis on pranayama (breathing exercises) and alignment. Suitable for beginners to advanced yogis.




Yin is a floor-based class that focuses on using the breath-body connection to cultivate a tranquil and meditative state. By settling into passive poses with long holds (usually between two and five minutes) the practice serves to release muscular tension and develop flexibility through the joints. Yin yoga is not ideal for pregnant or post-natal mothers.

.




This is a passive practice geared toward stress relief and relaxation. The yoga poses are well supported with props and held for several minutes leaving you well rested. Poses are healing and therapeutic for all levels.