Traci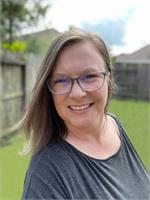 Traci Hoffman is a free spirited child of hippies cleverly disguised as a responsible adult. She has a heart for bhakti style yoga and it shows in her teaching. A student of yoga off and on for 20 years she abandoned her professional career as a nurse and got her RYT-200 from Awakened Yoga in Sugarland. She also holds a certificate in Yin Yoga from Yoga One. Traci teaches an unpredictable, fun, spirited and dedicated flow.
In addition to teaching Traci is our Studio Manager.

She balances her love for yoga with her family. Traci and her husband Kevin have five children (ranging in ages 22-6) and two dogs. She enjoys live music and bad reality television.
When you can't find her on her mat she will more than likely be either on stage or lurking backstage at a local community theatre.
A student of meditation and the yoga philosophy Traci weaves these concepts into her classes. She credits yoga and her beliefs in helping her through the death of her oldest son and her mother's cancer. Traci has a heart for service and you will find her volunteering her services to those in need and raising awareness for Pancreatic Cancer (ask her about her purple hair).
Traci instructs the following:
this class begins with several restorative postures that relax and prepare the body to receive Yoga Nidra. Yoga Nidra is referred to as "Divine Sleep" or "yogic sleep". Following a guided Nidra meditation, your body and mind will enter into a sleep like state of relaxation. Take stress relief and relaxation to the next level. This class is suitable for all levels and abilities.




This is a non-flow yoga class. Using the basic postures, this class moves at a slower pace with more emphasis on pranayama (breathing exercises) and alignment. Suitable for beginners to advanced yogis.




Yin is a floor-based class that focuses on using the breath-body connection to cultivate a tranquil and meditative state. By settling into passive poses with long holds (usually between two and five minutes) the practice serves to release muscular tension and develop flexibility through the joints. Yin yoga is not ideal for pregnant or post-natal mothers.

.




A vinyasa practice taught at a slower pace, with more explanation on correct alignment and modifi- cations. Basic postures are explored including standing poses, standing balancing poses, core work and back- bends. This class is appropriate for absolute beginners or experienced students wanting to take it down a notch.