Camille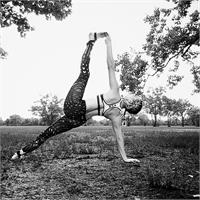 Camille began her practice in college in a simple quest to find something after dance. Since then she has fallen for the practice and studies whenever possible. She teaches a playful practice that encourages the accessibility of postures through props, practice, and laughter.
She completed her 200 RYT with Gioconda Parker.
Camille instructs the following:
This is a vigorous vinyasa practice that is kicked up a notch in intensity and pace. Be prepared to sweat and be challenged. Appropriate for experienced/ambitious beginners and up.




A vinyasa practice taught at a slower pace, with more explanation on correct alignment and modifi- cations. Basic postures are explored including standing poses, standing balancing poses, core work and back- bends. This class is appropriate for absolute beginners or experienced students wanting to take it down a notch.




This is an all-level vinyasa practice where poses are explored beyond the basics and at a faster pace. This class is appropriate for ambitious beginners and long time practitioners.