Veronica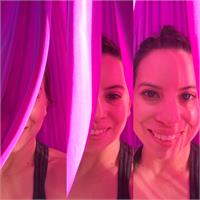 I am happily married to my husband Tim, we have been married for 2 years. We have two gorgeous girls, Jordyn and Mackenzie. I just recently completed my 200HR teacher training at Awakened Yoga. I was searching for a yoga studio close to home one day and when I found that AY was near by, I stopped in for Grace's class and I was instantly hooked. I fell in love with all the amazing staff, the studio and I have become obsessed with learning more about the physical, mental and spiritual practices of yoga. I have learned that yoga is not just a physical work out, it helps you to dig deep inside yourself to remember who you are before the world told you who you should be. To be truly authentic and not walk around with a mask.
Veronica instructs the following:
Let your kiddos come swing like a monkey in this 4-week kids aerial workshop. They will learn muscle control using the hammocks, build total body strength and of course have fun hanging upside down. Girls AND boys welcome! This is limited to children ages 8 and up. This is a 4-week series on Mondays 6:00 - 7:00pm from October 9 - October 30. Price $100/child. (note that there are no drop-ins allowed, and no refunds if classes are missed). Kids should wear sleeves and yoga pants and boys should wear compression shorts if they have them. Bring a yoga mat and water. No jewelry allowed.




This class will focus on building core and complete body strength as well as prepare you for more advanced tricks. Props will be used with the silks. Please bring a mat for the class. Please wear a shirt with sleeves. Men please wear compression shorts.




Take the gravity out of your practice and learn to fly using an aerial hammock to support your practice. Aerial yoga builds total body strength, deepens stretches and helps to decompress joints. Classes are all levels. Please bring your mat as the first part of the class is on the mat. Please arrive 15 minutes before class to make sure you get your silk properly set up. No jewelry and please wear sleeves and leggings. Cancellations must be made no later than 24 hours before the class or no refunds or transfers will be given. No refunds/transfers for no shows.




This is a specialized aerial yoga class focusing on restoration. This class will soothe the nervous system, restore energy, and deepen the breath. Open to all levels. Please bring a mat. Wear sleeves and yoga pants (men should wear compression shorts if possible) and no jewelry.

This class holds a maximum of 2 clients. Please make reservations 24 hours in advance. Cancellations must be made within 24 hours in order to receive a refund or credit.