Amanda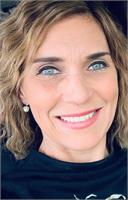 Amanda finished her yoga instructor training earlier this year and is also certified to teach SUP yoga. Off the mat, she is a Montessori teacher, working with children (18-36 months ) for the last 9 years. "Bringing yoga into my classroom was my research project and I was amazed at how the children took to it, they wanted to do it, they asked to do it. I truly believe the breath of life and how to use it should be taught very early in life. I teach breathing techniques in my class everyday."
Amanda has been practicing yoga for the last ten years. Going through the training was such an amazing and badass experience for her. "Not only did I deepen my practice but my spirituality deepened too. I gained a lot of confidence in myself and was able to let go of the baggage and create space for new positive things in my life."

Yoga has taught her self love and to be OK with her authentic self even if someone doesn't like it. "I've learned that I'm in competition with no one. I have no desire to play the game of being better than anyone. I am simply trying to be better than the person I was yesterday. I'm stoked to be at Awakened Yoga Studio. See you on the mat."
Amanda instructs the following:
Come play yoga with us! Yoga classes for kids encourage children to explore and discover the mind and body in FUN ways. Yoga for kids uses interactive games, stories, and other play-like activities to stimulate the imagination, get their bodies moving and having a great time!Through yoga, kids move to improve flexibility, balance, and strength. Kids will learn relaxation and breathing techniques to help them calm the mind, learn concentration and focus, and develop inner confidence! Open to children ages 5 to 12.




A slower paced flow class to help you focus your practice on core strength, muscle flexibility, breath techniques, and meditation. Slow down and take it all in. Appropriate for students at all levels.




Chair yoga is a practice that is supportive and beneficial to individuals who have limited mobility. This class will benefit seniors, those recovering from injuries, yogis with arthritis, or any other mobility issues. In this class we use chairs to sit in (rather than the floor) and to provide yogis with support in standing poses. You'll connect with your breath, stretch, strengthen, improve range of motion, and reduce stress. Open to all yogis and all levels. This class is limited to 10 people. If you are recovering from injuries, please make sure you have been cleared to exercise.




This option is for Fluor Corporation employees signing up for corporate on-site yoga classes ONLY. Classes are held in the fitness center. Move, stretch and breathe - classes are mildly vigorous (so you won't be too sweaty) and includes stress relief and stretching. These fees are valid for on site classes only and not valid for classes at Awakened Yoga Studio. NO REFUNDS within 7 days of classes beginning and once classes begin no refunds or transfers are allowed. Early enrollment is strongly recommended.

Fluor Corporation employees may take classes at Awakened Yoga Studio for just $10/class! (Just bring ID, business card, etc.)




This 45-minute lunchtime class is an all-level vinyasa practice where poses are explored beyond the basics and at a faster pace. This class is appropriate for ambitious beginners and long time practitioners. Perfect for your lunch hour!