Beth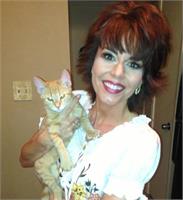 Beth is delighted to be a part of the Awakened Yoga community! She began a sporadic yoga practice ten years ago, but has recently committed herself to make it part of her everyday lifestyle.

Prior to joining AY, Beth worked as a television/radio broadcaster in her native Amarillo. Upon moving to Sugar Land, she taught school. When not behind the AY desk, Beth serves as an area college representative for FIDM, an art, design, and business college based in Los Angeles. An avid vintage clothing and accessory collector, she's occasionally called upon to conduct 'out of the box' style seminars. She's overly enthusiastic about colors, textures, and anything off the beaten path.

Beth enjoys sewing, knitting, and needlepoint. She has a deranged obsession with old movies and the stars of yesteryear. She is married to singer/songwriter/ musician Kent Newman of the band Rat Ranch. They strive to make their life as cartoonish as possible and are the proud parents of three incredibly spoiled and occasionally obnoxious cats.
Beth is currently not instructing any classes.