Sadie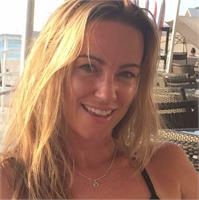 Sadie first began practicing yoga in 2008 at her community gym, she went for mostly a physical workout and some needed 'me' time after the birth of her second child. What actually transpired from this introduction (besides being able to fit into her pre-pregnancy clothes and a short break from the daily demands of parenthood) was an awakened sense of 'self' and a new understanding of the 'mind-body-spirit connection'.

When Sadie is off the mat you'll find her spending time with her high school love- married close to 20 years & their 2 amazing boys. She is more invigorated than ever to maintain a balanced, active & healthy lifestyle- yoga reinforces that mantra.
Some of her other passions include gardening, DIY projects, reading (especially about health & wellness), and experiencing new adventures in travel & food.

Sadie became RYT-200 certified in May 2016 as a vinyasa yoga instructor.

Her classes emphasize building a solid foundation with strength & proper alignment, while also finding ease in asanas (poses) through pranayama (breath). She wants to help guide people along their own journeys to become brighter and happier, with a calmer mind, an open heart & joyful spirit on & off the mat.
Sadie instructs the following:
A vinyasa practice taught at a slower pace, with more explanation on correct alignment and modifi- cations. Basic postures are explored including standing poses, standing balancing poses, core work and back- bends. This class is appropriate for absolute beginners or experienced students wanting to take it down a notch.