Phen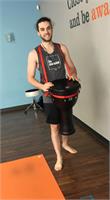 Phen Izrael is an energetic weirdo that loves to do handstands and almost all things flexible! His yoga practice began in 2009 as an alternative to surgery, after having two compression fractures in his lower back. Fast forward to 2016 and he is teaching the youth of Sugar Land, here at Awakened Yoga! His kids yoga classes are filled with fun, high energy, and self awareness. Phen focuses his kids yoga classes on becoming aware of yourself, your own body, your own thoughts, and your own breath. When he is not teaching yoga, Phen is either playing drums with his band Kattkill or spending most of his time with his spectaculistic wonderful wife, Kat. (she teaches yoga here too...check her out...her classes are awesome) Phen also coaches boys recreational gymnastics and practices hypnotherapy.
If you are lucky, you might take a class when Phen is playing live music during the Flow!
Phen instructs the following:
Come play yoga with us! Yoga classes for kids encourage children to explore and discover the mind and body in FUN ways. Yoga for kids uses interactive games, stories, and other play-like activities to stimulate the imagination, get their bodies moving and having a great time!Through yoga, kids move to improve flexibility, balance, and strength. Kids will learn relaxation and breathing techniques to help them calm the mind, learn concentration and focus, and develop inner confidence! Open to children ages 5 to 12.