Rashad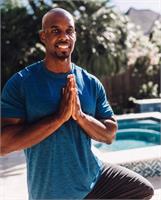 Rashad's yoga journey began in the Spring of 2014 after moving to the area from Atlanta to open a new gym franchise. He was motivated to regain the flexibility and agility of his youth after years of bodybuilding. When the Awakened community embraced him, he became more open to the mind, body and spirit connection, yoga brought him. He teaches a class that focuses on mindfulness and presence, while mixing in isolated movements to increase overall strength. Rashad received his RYT200 certification from Awakened Yoga in early 2017. He has 15 years of experience as a personal trainer, strength coach and recently authored his first book, titled Walking On Water...How to Thrive Outside of Your Comfort Zone.
When Rashad is off the mat, you'll find him at his gym in Sugar Land training his clients or spending time with his rib, Andrea, exploring the many cuisines Houston has to offer. He also spends time walking the halls of local schools, interacting with coaches and student-athletes, through his work with Fellowship of Christian Athletes. Yoga has invigorated Rashad more than ever to maintain a balanced spiritual, active and healthy lifestyle.
Rashad instructs the following:
Young athletes can benefit from incorporating yoga into their routine! Increasing flexibility and creating more elasticity in the ligaments of young athletes will aid in minimizing injuries. Yoga will increase breathing capacity, endurance, energy and focus. It also teaches children an awareness of their bodies while in movement or stillness. The skills learned in this class will teach your child how to recover quickly from a strenuous practice or game.

This class will be taught by Rashad Sanders, who teaches athletes of all ages how to strengthen their bodies to enhance sport performance.

This class is appropriate for kids ages 8-14.

Use your kids class pass or pay drop-ins $15/class.




This is a vigorous vinyasa practice that is kicked up a notch in intensity and pace. Be prepared to sweat and be challenged. Appropriate for experienced/ambitious beginners and up.




A slower paced flow class to help you focus your practice on core strength, muscle flexibility, breath techniques, and meditation. Slow down and take it all in. Appropriate for students at all levels.