Melanie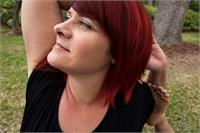 Melanie Comegys is an experienced yoga teacher, 500 E-RYT. She has a Level II Reiki Certification in the Usui Shiki Ryoho tradition and has been working in adult education since 1993 as a Head Trainer Corporate Trainer, teaching others how to be leaders.
After a 17-year career in Orthopedic Surgery as a leader in academics and education, Melanie is currently teaching and training others yoga in Houston. She has used her corporate training skills in designing and creating curriculums and training materials for yoga trainings. Through an intelligent and structured approach, she brings adult education in yoga to a new level of training.
Practicing yoga since 1999, she continues her yoga education. She completed five years of intensive yoga studies and has received two certifications in yoga. She continues teaching regular yoga classes along with yoga teacher training and workshops.
Melanie's teaching is mostly focused on alignment-based yoga. She continually approaches the form-based physicality of the postures in yoga and loves the structure that it brings. Melanie's classes are inclusive, as she helps everyone in understanding the poses. She gives detailed cues in how to move deeper into the poses, and she helps all students create a foundation that they can build upon. To learn more www.texsunyoga.com
Melanie instructs the following:
Prenatal yoga is an excellent way to stay in shape, stay flexible, and reduce stress during pregnancy. This series is influenced by the vinyasa style, meaning linking movement with breath. You will be challenged to move, you will strengthen and you will stretch. You will also learn to breathe and relax to help you through the physical demands of pregnancy and child birth. This series is most appropriate for absolute beginners and experienced yogi's in their second and third trimesters.


Please check with your doctor prior to beginning this yoga practice.


This session meets twice a week, Tues/Thurs 6:30 to 7:30pm. Class size is limited.

*No refunds once the series has begun. No make-up sessions are available in another series. Students may take a regularly scheduled yoga class classes in the same time frame (or within one year if you deliver the baby during the class sessions.)

Price: $125 for 8 classes




This is a passive practice geared toward stress relief and relaxation. The yoga poses are well supported with props and held for several minutes leaving you well rested. Poses are healing and therapeutic for all levels.