Melanie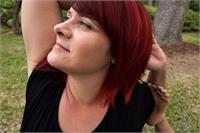 Melanie Comegys is an experienced yoga teacher, 500 E-RYT. She has a Level II Reiki Certification in the Usui Shiki Ryoho tradition and has been working in adult education since 1993 as a Head Trainer Corporate Trainer, teaching others how to be leaders.
After a 17-year career in Orthopedic Surgery as a leader in academics and education, Melanie is currently teaching and training others yoga in Houston. She has used her corporate training skills in designing and creating curriculums and training materials for yoga trainings. Through an intelligent and structured approach, she brings adult education in yoga to a new level of training.
Practicing yoga since 1999, she continues her yoga education. She completed five years of intensive yoga studies and has received two certifications in yoga. She continues teaching regular yoga classes along with yoga teacher training and workshops.
Melanie's teaching is mostly focused on alignment-based yoga. She continually approaches the form-based physicality of the postures in yoga and loves the structure that it brings. Melanie's classes are inclusive, as she helps everyone in understanding the poses. She gives detailed cues in how to move deeper into the poses, and she helps all students create a foundation that they can build upon. To learn more www.texsunyoga.com
Melanie instructs the following:
This is a passive practice geared toward stress relief and relaxation. The yoga poses are well supported with props and held for several minutes leaving you well rested. Poses are healing and therapeutic for all levels.




Designed specifically for your maturing teen to develop a better understanding and awareness of their body, breath, and state of mind. A typical class will include meditation/breathing, Asanas, and mindfulness discussion and techniques.




this class begins with several restorative postures that relax and prepare the body to receive Yoga Nidra. Yoga Nidra is referred to as "Divine Sleep" or "yogic sleep". Following a guided Nidra meditation, your body and mind will enter into a sleep like state of relaxation. Take stress relief and relaxation to the next level. This class is suitable for all levels and abilities.