-Why did you become a Teacher?
For the moments when children finally have a concept click, that feeling is exciting. Hmm guess that's more why I still teach. Spring break brain has set in!
-How does yoga help with your teaching?
It has taught me techniques to help destress after a rough day and it keeps my focus on what is truly important.
-What it means to be apart of the Awakened Yoga Family and what Awakened Yoga has done for you?
To be part of a supportive fun loving group.
-What is your favorite yoga pose?
In the classroom 'rock the baby', it tickles me to see my kinder students attempt it. Their laughter is infectious! In SUP, dancer! In the studio, any that make me feel awesome on any given day!
-What is your favorite style of yoga or class here at Awakened Yoga?
I am beginning to like them all because no matter my mood I can find a class.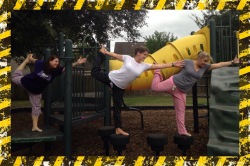 (Melissa, Tami, and Megan - from Left to Right)